I love love LOVE San Francisco. I'm not one for big cities, but something about being near the ocean and having so much greenery makes me feel at home in the Bay Area. We moved back East a year and a half ago, but whenever I get the chance I jump on a plane and head west to visit friends. Jeffy was born in the Bay Area, and we spent the first year of his life running around exploring San Francisco. I had previously nannied a toddler for two years leading up the the birth of my own son and had time to travel around and explore the Bay Area. I'm not an expert on everything in San Francisco, but I do know a fair amount of toddler activities! Here are a few of my favorite things:
ONE // The de Young Museum Tower (free!):
During my time in the Bay Area I never knew about this gem. I discovered this hack via instagram and found it to be true during my last visit. You don't have to pay for entry into the de Young Museum, rather, you can walk past the admissions desk to the tower and ride the elevator to the observation deck for free. It offers 360 views of the city and the bay, it is stunning!
TWO // The Golden Gate Park: Japanese Tea Garden & Botanical Garden: Free Entry Times
While you're in Golden Gate Park, basically everything is beautiful. You can simply walk around and enjoy, but you can also make specific day trips to local attractions, many of which have free days! For example you can enter the Japanese Tea Garden (right next to the DeYoung Museum Free Tower!) on Mondays, Wednesdays, and Fridays for FREE before 10am. The Botanical Garden one ups the Japanese Tea Garden by offering Free admission DAILY from 7:30-9:00am. If you're up early with a toddler or baby, you can really make a full free morning at Golden Gate Park.
THREE // Golden Gate Park Playground & Carousel ($2/Adults, Children 5 & Under Ride Free)
Meet up with friends or plan a picnic at the Koret Playground. It has play structures for all abilities and both lawn and picnic tables available for lunch. It's a great centralized location to meet up with friends, and the Carousel (built in 1914, more info linked here) is a stunning, affordable and fun attraction!
FOUR // Tilden Park, Orinda, CA. (Small Farm: free! Carousel: $3 Train Ride: $3)
While driving to the East Bay to get to Berkeley may seem far from Marin and San Francisco, Tilden Park is worth the drive! They have a Little Farm that is free to visit which boasts pigs, chickens, ducks, sheep and cows! You're allowed to feed the animals (celery or lettuce) which makes it that much more exciting for littles. This little farm is, in my opinion, a better option than a zoo because it is interactive and free! Across Tilden Park you can also find a merry-go-round and a steam train ride! I have yet to get on the train (this last visit Jeff fell asleep in the car in Berkeley and I didn't want to wake him) but hopefully we'll get aboard soon! More info on these attractions (including pricing and hours linked here)
FIVE // Discovery Museum, Sausalito CA ($13.95)
I love love love this museum, and miss it all the time. Built in an old fort, it consists of many different buildings each containing a different area of interest (art, science, trains, and a toddler area). Located on the water in Sausalito, it offers stunning views of the Golden Gate Bridge. I purchased a membership as soon as Jeffy could crawl (so, at around 6 months old, ha!) because it offered a great space for him to safely crawl around and explore in the Tot Spot and for me to drink coffee with other moms and get out of the house. I also loved that they have an art area with rotating and always interesting activities such as painting, play-doh, etc that offered me new ideas and also took care of the mess. They have an adorable little cafe where members save 10%, so I could grab a coffee or even lunch if we were enjoying our time and didn't want to leave. If you don't live as locally, there are a few ways to visit the museum without breaking the bank. If you're a member of a Marin County Library you can get the tickets for free or go the 1st Wednesday of the month. (linked here)
SIX // The Bay Model Museum, Sausalito (Free!)
The San Francisco branch of the Army Corps of Engineers has a really cool museum set up in Sausalito which is a working model of the bay. It has actual tides of water that rise and fall and well as all the surrounding landscape. It is inside a large building and the model itself covers multiple acres. It's not modern, but it is cool and kids love it. It also gives you good reason to go to Bar Bocce after and sit by the water for lunch!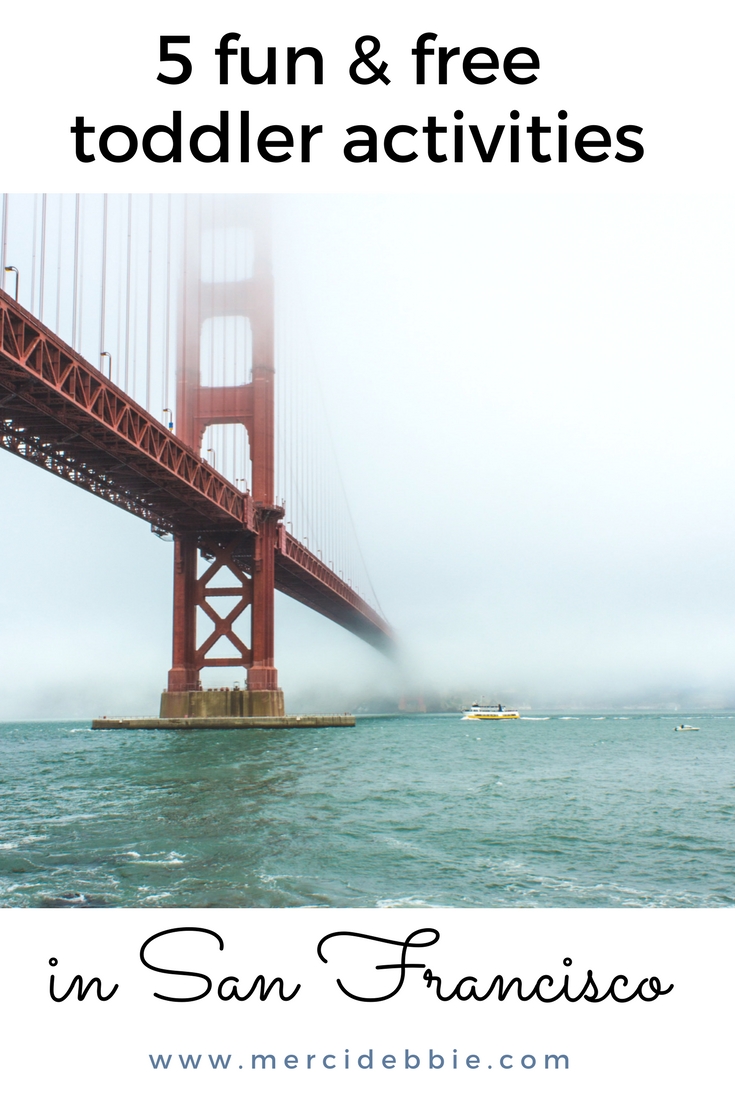 SEVEN // MUIR BEACH & MUIR BEACH OVERLOOK
Another thing I love about the Bay Area is easy access to so many beaches. I grew up about an hour from the ocean and always loved going there, but living in Sausalito allowed me to be at the beach in 10 minutes! Muir Beach is a bit further north, but it's calm tide makes for a great baby beach. It has a newly renovated parking lot so mid-week trips are a cinch...it's the weekends that it fills up fast. Just a five minute drive past the beach is the Muir Beach Overlook. It offers beautiful views of the coastline as well as a great hiking path alongside it. During my last trip I hike from the Overlook down to Slide Ranch with my brother and sister in law and it was beautiful and smelt of eucalyptus the entire way.
There are so many things to do in the Bay Area: great hikes in National Parks (free), picnics at the beach, walking the Golden Gate Bridge, riding a ferry from San Francisco to Sausalito or simply grabbing an ice cream cone at Ghiradelli Square. I could go on and on because really, I love that city, but give these a shot and let me know if you have any other ideas for me to try on my next visit!